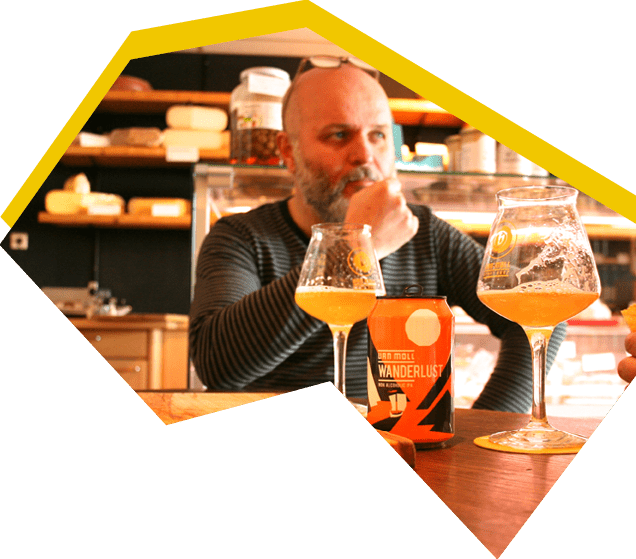 The 6 best cheese & core range pairings!
Cheese and beer, the best pairing out there! Together with Louis of Jokkmokk we went on a journey to discover the best core range and cheese pairings. A feast for our taste buds. A trip we would like you  to join. Which cheese honors the beers the best? 
How does a good pairing work? That is the first question that Louis answers. "I had wine lessons from Claudia van Dongen and from her I learned a theory that I still use today. You compare a cheese and a drink on three different levels. If you can combine on all three levels, then you have a good pairing."
"The first one is mouthfeel, is it thick and creamy (what you taste on the front of the tongue) or 'tight' (on the back of the tongue)? Second is taste level, is it high or low on taste? And the third is flavor type, usually expressed in seasons. Is it spring-like fresh, summer fruit, autumn dark in the taste or really wintery? Often good pairings are about harmony, but sometimes you are looking for the contrast. Opposites attract. Yet a symbiosis is more beautiful. A gose or a Berliner Weisse is spring-like, tight and not highly flavored, a nice goat cheese goes with it. Personally, I find cheeses and beers much more often an interesting combination for your palette than wine and cheese."
Fiore loves Wanderlust
A Non-Alcoholic IPA includes a fat-free cheese. No, we're just messing around. After a taste test between a farmer's cheese and a not too spicy red crust cheese, the latter emerged as the winner. Despite the fact that it remains difficult to pair an IPA due to the hoppy, bitter character. Both cheeses were filmy, but the Fiore has a spicier aftertaste that better suits an IPA. A pleasant combination.
Fiore – Red crust cheese – Oudwijker
Langharig Tuig rocks Brie de Melun
With a weizen or wheat beer you tend to quickly lean towards a white mold cheese because it is creamier. We chose Brie de Melun, a brother of Brie de Meaux but just a bit spicier. That makes it just a bit more interesting and fitting with the hoppy flavor of Long-haired Tuig. Paired perfectly.
Brie de Melun – White mold cheese – Brie (region)
Colosso is a Doerak
Surprisingly, an IPA can often go well with blue cheese. It turns out that the Colosso, made from buffalo milk, gets the best out of Doerak. This is because the cheese has a slightly bitter aftertaste, as is also found in gorgonzola. That bitterness stands out above the blue mold flavor and embraces the bitterness of the hops, making both taste softer. An unexpected, perfectly fitting pairing.
Colosso – Bleu cheese – Oudwijker
You taste the 'toewijding' (devotion) in a riped farmers cheese 
Toewijding is a sweeter beer, high in flavor and it has something fat and creamy but also 'tight'. You also get that combination from an old farmhouse cheese. Where matured cheese is mainly filmed, the old provides a somewhat tighter taste. Booij's old farmhouse cheese will be put on the shelf. A cheese that enhances and complements the taste of Toewijding.
Old farmhouse cheese – Booij
You really make trouble with Parmesan cheese
The beer has a summery taste, is very thick and has some spiciness in it. A clove cheese is a good option, Triple Trouble brings out the spicy in the cheese, but it's just not quite there yet. Then another spicy cheese comes to the table, one that has matured for a year with a rosemary crust so that these flavours subtly remain in the cheese. This is therefore less 'in your face' than the nail cheese, still not the best pairing. But three times is a charm, the winner is a 48-month-old Parmesan cheese. It also contains fruity notes that go well with the orange peel in Triple Trouble.
48 months old Parmigiano Reggiano
An old goat cheese ventures into Wodan
So what fits with Wodan? That was the question, and it was only after tasting a number of cheeses that a winner crossed the finish line. A two year old goat cheese with notes of sherry, fruit and nuts. A syrupy warm, complex taste that embraces the full freshness of Wodan. This cheese also lends itself very well to a fuller beer, a barley wine or stout.
2 year old goat cheese – Booij
A successful, tasty pairing. Looking for the best pairing with our core range? Order them via our webshop!