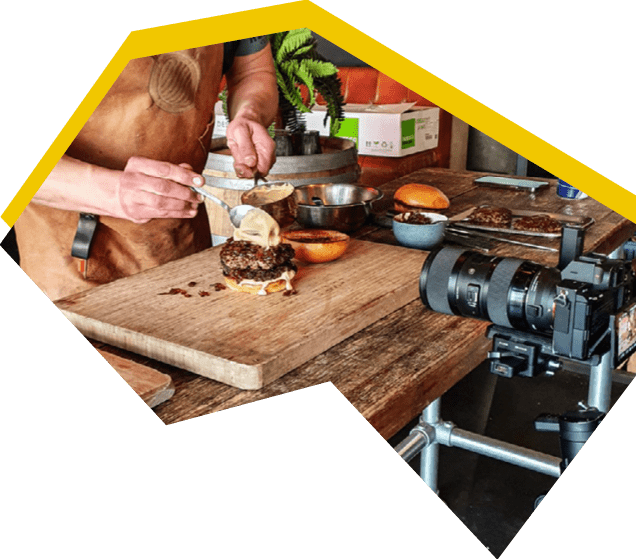 RECIPE: The best beer burger
Doerak, our flagship IPA goes extremely well with a burger, that's why we asked our friends of  The Roast Club to come up with a recipe. A burger that pairs perfectly with our Doerak. Little did we know they decided to throw a whole can in it. A real angus 'smash' burger with IPA cheddar sauce and caramlized IPA onions. Beer…eh…mouthwatering.
The angus 'smash burger' is a flavourbomb! It's a variation on a classic cheeseburger and in our opinion one of the tastiest ever. Ask you butcher for premium coarsely ground beef. To accompany the umami taste of the pure beef burger, we add a burger sauce, a silky soft cheese sauce and beer caramelized onions. We explain step by step how to prepare this juicy burger. Enjoy!
Tip: If you also want to serve a cheese sauce as a topping for your fries or nachos, make a double recipe for your cheese sauce. The caramelized onions can also be made in bulk and stored in a sterile preserving jar.
INGREDIENTS FOR 4 PEOPLE
BURGERS
800 GR angus beef (20% fat, coarsley ground,
devided in 100 gram balls)
Seasalt
4 brioche buns of 10 cm
BURGER SAUCE
2 EL mayonaise
2 EL ketchup
1 EL American mustard
1 EL finely sliced pickle
1 EL finley sliced onion
CHEDDAR CHEESE SAUCE
200 ML Doerak
150 GR grated cheddar
150 GR grated old cheese
1 EL tabasco
1 EL worcestershire
2 EL corn flour, mixed with 30ML cooled Doerak
1/2 EL smoked paprika powder
1 finely sliced jalapeño
Salt to taste
CARAMELIZED ONIONS
30 ML Doerak
20 GR butter
150 GR finely sliced onion
2 EL sugar
2 EL white wine vinegar
1 finely sliced jalapeño
PREPARATION
CARAMELIZED ONIONS IN DOERAK
Melt the butter in a saucepan and fry the onions over low heat until slightly golden and caramelized. Add the jalapeños and fry for one minute. Add sugar and vinegar and let it reduce together. Then deglaze the onions and jalapeños with Doerak. Let this cool down for a while and keep in the fridge until you are ready to assemble the burger.
CHEDDAR CHEESE SAUCE
Heat 170 ml Doerak in a wide non-stick pan until the beer boils slightly. Keep stirring the entire time and add a handful of cheese at a time until the cheese has melted and has become a soft sauce. Then add the corn flour mix with the remaining 30 ml Doerak and keep stirring the sauce. Let the sauce cook for 1-2 minutes until the corn flour and Doerak mix has dissolved and thickened. Add the jalapeños, Tabasco, Worcestershire, paprika and salt. Let the sauce cool slightly.
THE CITIZENS
Put a frying pan with oil on the fire and wait until it is hot. Place the meatball in the pan and immediately press it flat with a spatula. Then season the top of the burgers with some salt and let the burgers cook for 90 seconds on high heat. Flip the burgers, flatten them again and season with salt. Wait for a nice crust to form. Remove the burgers and let them rest while you prepare the remaining elements to finish your burger.
BUILDING THE BURGER
Cut the buns in half and lightly roast the inside in the pan you just used for the burgers. Spread a tablespoon of burger sauce on the bottom of the bun. Place a hamburger on top of the burger sauce and top with some onions. Then top it with another hamburger with again some onions. Top with the warm cheese sauce. Place the top of the bun on top. Serve the double burger with some warm cheese sauce for the nachos or fries and of course a delicious glass of Doerak!