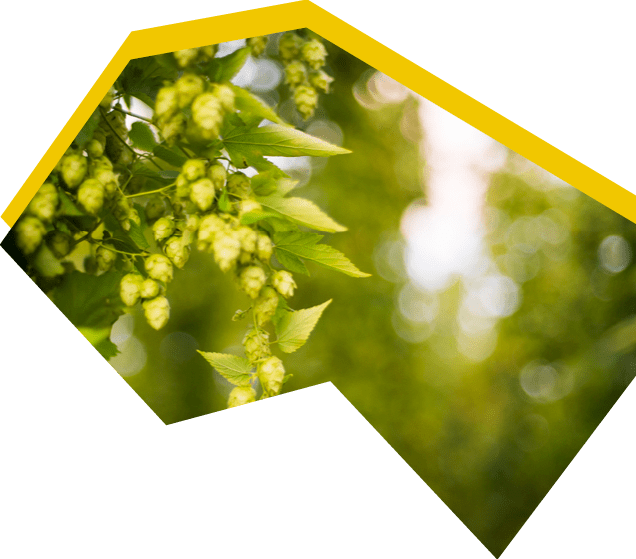 Hop on the Talus train.
Talusman is our newest beer, and single hop American Pale Ale. This beer puts the new hop variety Talus in the spotlight. Time to find out more about Talus and the development of new hops. Nicolas Soenen from Yakima Chief Hops is happy to tell us more about it…
Great beers grow here
Yakima Chiefs Hops is a cooperative that is 100% owned by hop growers. "About 14 hop farm(er)s from the Pacific North-West (Washington, Oregon and Idaho) are the founders and owners of Yakima Chief. In addition, about 50 hop growers are affiliated with us. We connect our hop farmers with the best brewers from around the world. Yakima Chief Hops is owned by hop growers, so we are not an intermediate buyer, but facilitate it. At the end of the 1990s, many hop growers were on the verge of bankruptcy because they were paid too little from intermediaries. Hence, Yakima Chief Hops saw the light of day and made sure of an open and transparent supply chain. The transaction goes from grower to brewer, which ensures that 75% of the income goes directly back to the farmers. For developing new hops, new harvesting methods and for purchasing machines. Everything to be able to deliver quality hops," says Nicolas.

Influence of brewers
"We create that quality together with the brewers. These often come to visit us or we have contact with them in some other form. They work with our product and give us valuable feedback, which helps us to improve and grow. A good example of this is that we used to dry our hops in an oven at temperatures of 60-70°C. We did this to allow them to dry faster and to be able to continue with the production process. We now use 50-60°C because together with the brewers we found out that the aromas are preserved better this way. You can also taste that in the beers," explains Nicolas.
Newcomer Talus
One of the newest hops from Yakima Chief Hops is Talus, formerly known as HBC 692. All experimental hops are coded and given a name as soon as they are commercially launched. Talus refers to the sloping features of the rocky terrain on which the hops grow. A tribute to the mountainous landscape of the Pacific Northwest and the adventurous flavour profile of the hops, says Yakima Chief Hops. So what do you taste in Talus? "The perfect blend of tropical fruits and citrus; pink grapefruit, coconut, pineapple, mandarin. The tropical influences come from 'mother' Sabro. Talus is very surprising, it has strong flavours but at the same time it is very accessible. The aroma is well preserved during the brewing process and goes well with other hops," explains Nicolas.
Hop hop let's go!
Or not… it takes Yakima Chief Hops an average of 11 years to develop a new hop variety such as Talus. Nicolas tells us more about the process. "In the first year, about 10,000 crosses (male x female) of hop plants are being planted. In the second year, we continue to develop the baby plants in greenhouses and expose them to various diseases and bacteria. We do this to see which hop plants can withstand this. You can think of this as the first selection process, those that survive can move on to the next stage. Then they get six years to prove themselves on fields. How does the plant behave? Can they withstand temperature differences and weather conditions? How much yield do they produce? How fast does the plant grow? We will be testing the plants for aromas in the last three years, initially we don't look at this at all. For that test we need brewers. Our regular customers are allowed to perform tests with our HBC-hops and give their feedback. What is the aroma? How is the brewing experience? After these tests, we look at which experimental hop is the winner in terms of taste, production and potential. Only when all phases have been completed does the hop variety get a name and is it commercially marketed."
Experimental hops
So there are a lot of hops that are never commercialised? "Yes a lot. Some are less interesting from an agricultural point of view, but have, for example, a special aroma. These will then remain in the experimental phase longer and are available for brewers to test, but it is not certain how long they will remain. HBC472 is a good example of this. That is Sabro's sister and therefore also Talus' aunt. It is a very interesting hop variety with an aroma that resembles bourbon. Lots of vanilla and coconut, but too outspoken to use in many beer styles. This makes it less suitable for large-scale production. Although we, and certain brewers, are really in love with that hop variety," says Nicolas.

Aroma hops
"We are mainly involved in the development of aroma hops. The real creators of flavour. We also see that the market has a greater need for this and less so for bitter hops. We also see less and less use of hops for a bitter effect, then a somewhat bitter aroma hop is often used such as Citra or Mosaic with a high 'alpha' (alpha acids give the beer the bitter taste, coming from lupine grains of female hops). We did introduce Patho in 2018, which is a bittering hop with 20% alpha, the strongest on the market. Our only bitter exception in the past 15 years" explains Nicolas.
Hip hops
Which aroma hops are the most popular? "Hops with tropical aromas of mango, passion fruit or pineapple and coconut have been growing in popularity for two years now. Before that it was mainly the citrus aromas that were in demand," says Nicolas. "That is on the one hand due to the hops that come onto the market and on the other because of what is used". Since Nicolas is also a home brewer, we couldn't resist asking about his favourite hops. "In my top 3 are Simcoe, Idaho-7 and Talus. To me Simcoe is a great classic, very versatile with citrus notes and pine, a good hop base. I use it in almost every beer. Idaho-7 has those delicious passion fruit and mango aromas that give your beer a tropical touch and that you can use in many ways. Talus is unique yet accessible, especially great for dry-hopping or using as single hop. I am therefore very curious about your Talusman" concludes Nicolas.
Want to get a taste of Talus in all its glory? Then order our Talusman!