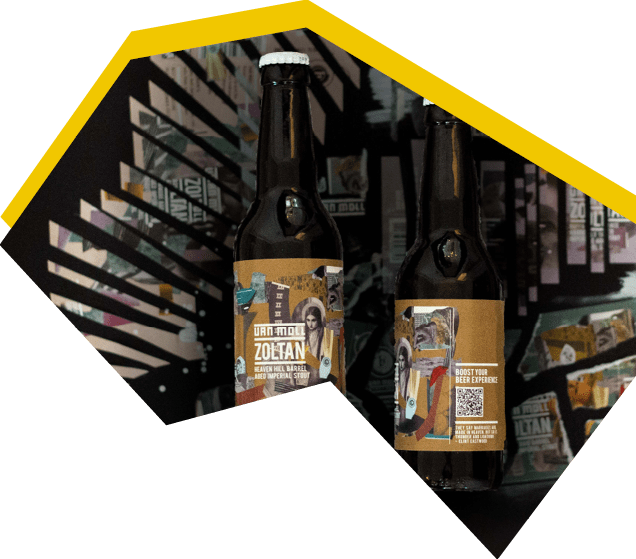 Beer Hunter: in search of the best beers and whiskys!
Our Zoltan-series, the same Imperial Stout is aged in different barrels each time. With the recently released Zoltan, aged in Heaven Hill Bourbon barrels, we are happy to tell you about Michael Jackson. No, not The King of Pop. But the well-known journalist and connoisseur in the beer and whiskey world. An icon. His work has meant a lot to the craft beer and whiskey world!
Beer Hunter
As the best man introduces himself "Hello, my name is Michael Jackson. No, not that Michael Jackson, but I am on a world tour. My tour is in pursuit of exceptional beer. That's why they call me the Beer Hunter" This is how he's still known since his death in 2007.
A beloved character in the craft beer world, not surprising because the British Beer Hunter laid the foundation for many beer writers and enthusiasts. His hunt started in the 60s when he worked for KLM and only lager could not appeal to him. During 'Carnaval' he came across a cafe serving Trappist beer and that left him wanting more. He continued his journey to Belgium and also visited Germany. Once back in England he discovered that many local brews were threatened by the big brands and mass production, so he immediately joined Camra (Campaign for real Ale) to champion the traditional way of brewing beer.
On the hunt
He also started his beer tour. All over the world in search of beers, beer styles and beer cultures. He collected all his knowledge and brought it together in 'The World Guide to Beer' that came out in 1977. A book in which his passion for the drink bursts from every page. As far as he was concerned, beer was part of the culture of a country (or region). He always described beers in their cultural context. He chose traditions over trends and became an authority on Belgian beers. In 1997 he was also awarded an honorary officer in the Ridderschap van de Roerstok, something that is normally only reserved for brewers.
Beer style
Michael Jackson was also the first to categorize beers by styles. Then quite unconventional, now the standard. Before its publication, other writers talked about variations, type, groups and species. Not about styles. He indicated this by naming the classic beer styles in his book. The styles that we now see on Ratebeer and Untappd originated with him. His greatest fame came in the late 1980s, when he got his own program 'The Beer Hunter' on Discovery. Luckily, fragments of this can still be viewed on YouTube.
Whisky world
In addition to beer, Jackson also had a passion for whisky. He also wrote several books about this drink, including 'The Malt Whisky Companion'. This whisky bible is still an important measure of the drink. He gave each whisky a rating of 0-100. And as far as he's concerned, only the drinks with a rating of 75 or higher are worth it. These ratings and reviews have had a major impact on the further development of single malt whisky.
Best of both worlds
With Zoltan we are so happy we can bring the beer and whiskey world together. Because maturing in a whiskey barrel gives the beer an extra dimension. For now we raise our glasses to Michael Jackson. Cheers!
His website is not only still live as a tribute, but is also there to quench a new generation of beer drinkers their thirst for knowledge!