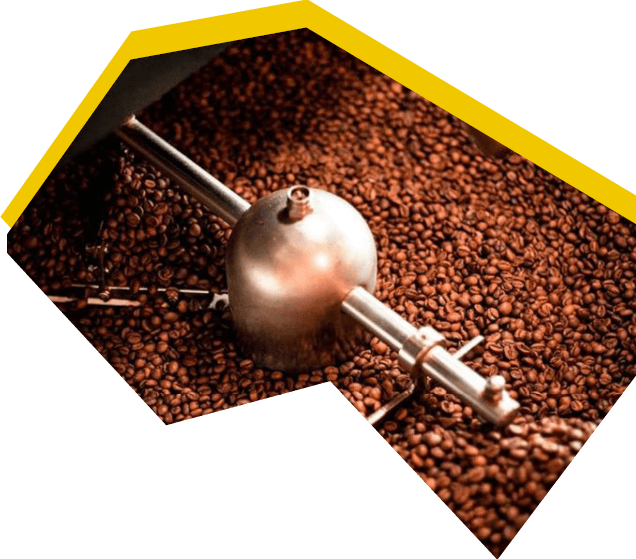 We borrowed a cup of coffee from DENF…
Meet Cuvee du Cariboo, the big brother of our Camp Cariboo. A firm coffee and maple porter, matured in both bourbon and maple barrels. A hearty breakfast. Made with delicious coffee, but where does the coffee come from? We spoke with Daan from DENF coffee about coffee, beer and the collaboration with Van Moll.

It starts with a seed
Tell us about your passion for coffee and the foundation of DENF? "I always knew I wanted to work in the hospitality industry, no doubt about that. As a child I used to play restaurant, so I didn't have to take a career choice test, I just went to 'hotelschool'. I started as a dishwasher when I was fifteen and developed myself further and further. I am a real host, yet in 2007 I wanted a fresh start. First I went traveling. This is where my mind really settled down and the inspiration came. I wrote a lot down about coffee, flavours, beans, colours, smells. Then came the inspiration about the concept: the furnishing with leather, steel and wood, whether to go international or not, the number of square meters I wanted. A basic concept began to emerge.…I had to do something with coffee," says Daan passionately.
You came back full of inspiration and got to work? "When I came back I had to get a job. I became an account manager for a coffee brand to see if that was something for me it. But no, I didn't like that lonely road… and again I was at a turning point. I just didn't know, so I went back to school. I followed teacher training and I also started working at Nespresso. It was the right choice, because I really enjoy teaching. I still give workshops to staff, for catering courses and to customers who buy our coffee. I even had the ambition to study further to give training, but that didn't feel quite right. Then I took the plunge and started taking barista courses and learned how to roast, which is really a must, being able to do it yourself. I also bought a coffee roaster and started testing and testing," says Daan. "It was an exciting start. At first I was mainly busy practicing and roasting. My entire apartment complex could join in, whether they liked it or not, they already smelled it on Sunday morning. Very nice. At one point I had my own blend; the '801'. Then I opened a pop-up in Wildenberg mode to test it for the general public. From there I went to two locations (Koetshuis, and TAC in Eindhoven). And finally I came across de Witte Dame. A beautiful place. No, If it's up to me I will never leave here."
The black gold
How do you actually get your coffee? "I work with a permanent partner  'this side up'. He helps me to make the right choice, which is also a sustainable choice. We go on coffee trips. For example, I have been to Nicaragua and Indonesia. There I feel even more connected to my product and to those who grow the coffee. To me, coffee has to tell a story. In addition, I learn a lot about the coffee plant, the biology, the planting, the location, the wind, the soil… you name it. Also about drying the coffee berry and processing. I learn there and do the roasting itself here in The Netherlands. Coffee is a natural product, just like wine, not every harvest is the same. As a result, the processing of the coffee is also different every time. My '801' has also changed and improved a bit over the years. The character remains the same. We also change the beans and the blends from time to time. It's always fun to try something new," says Daan.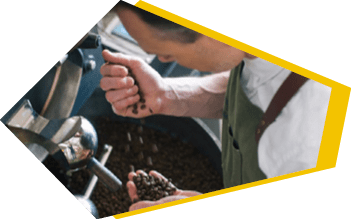 Collab du Cariboo
How did the collaboration with Van Moll come about? "Years ago we were almost neighbours, when I was still in the Koetshuis with DENF. We were doing a lot of renovation and then at the end of the day we went to Van Moll to get a large bottle of Toewijding.
We thought we deserved it. One day Erwin came by with kegs of stout and I made very strong and warm El Salvador espressos for this, and they went into the kegs. This beer was then released on a small scale in the pub. Later he opted for a different technique, 'steeping' the coarsely ground coffee, in pantyhose, before cooking. The way you taste it in Camp Cariboo,' says Daan.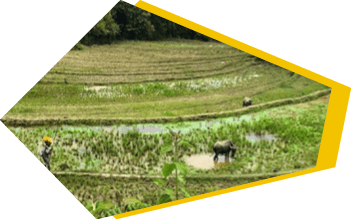 Cuvée du Cariboo
And after Camp Cariboo it was time for a barrel aged version? "Erwin told me his idea, I immediately indicated that it had to be a strong coffee. We chose 'Rende Nao' from Ruteng, Indonesia. This is a strong coffee with an Italian character. You will discover hints of black pepper, fig and it's very potent. It's the most intense coffee we have, making it a good balance for a heavy beer. So this coffee comes from Flores, I went there with my coffee partner in 2019 to sit down with the coffee farmers. You can't get any closer and nothing's more beautiful than this. I am proud of that and see everything with my own eyes. We make our own sustainability commitments to ensure that we invest in the farmers and help them deliver consistent quality. We certainly don't tell them how to grow it, they have the experience and the knowledge, they can do that much better themselves," says Daan. "I am very curious what this coffee will do for the beer. I can't wait to taste it."