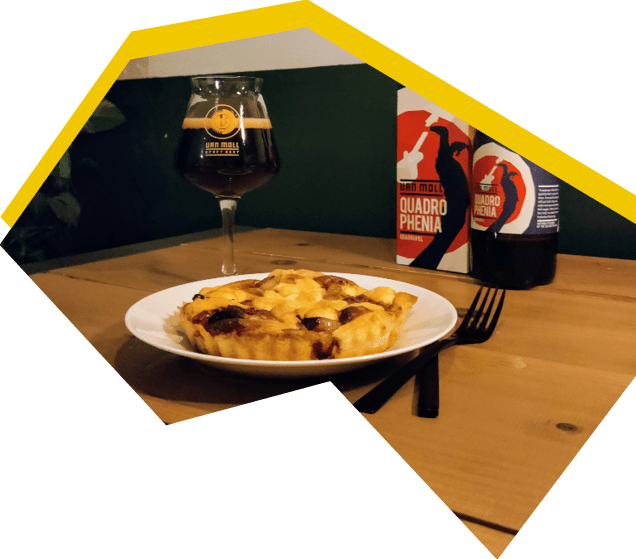 RECIPE: Quadrophenia Onion Tart
Quadrophenia, our quadrupel. A warm, slightly heavy beer perfect for those dark days. Tasty to drink…and eat in the form of our Quadrophenia Onion Tart! 
INGREDIENTS FOR 2  (with an appetite)
5 big onions
4 puff pastry sheets
pinch of salt & pepper
1/2  can Quadrophenia (the rest is to go with the tart…or drink during cooking)
150 grams of Port-Salut (or more if you are really into cheese…)
100 ml cream
2 eggs
optional: parma ham

PREP!
Peel the onions and cut them into rings. Heat the olive oil in a pan and fry the onions for 8-10 minutes until they are soft (medium heat). Pour in the Quadrophenia and sauté the onions until there is no more liquid in the pan. Meanwhile, preheat the oven to 200°C. Grease the baking tin with olive oil or butter (baking tin: small spring form or two small ovenproof dish). Line the baking tin(s) with puff pastry. If you go for the non-vegetarian variant, add slices of Parma ham on top. Cut the cheese into slices. Whisk the eggs and cream in a bowl and add salt and pepper to taste (also nice with some parsley). Divide the onions over the dough base, pour the egg-cream mixture on top. Finally, cover the cake with the Port Salut slices. Bake the tart in the oven for 30-35 minutes until golden brown. Also delicious with a salad.
And then it's time to enjoy this tasty onion tart. Grab a glass of Quadrophenia with it. Cheers and tasty!