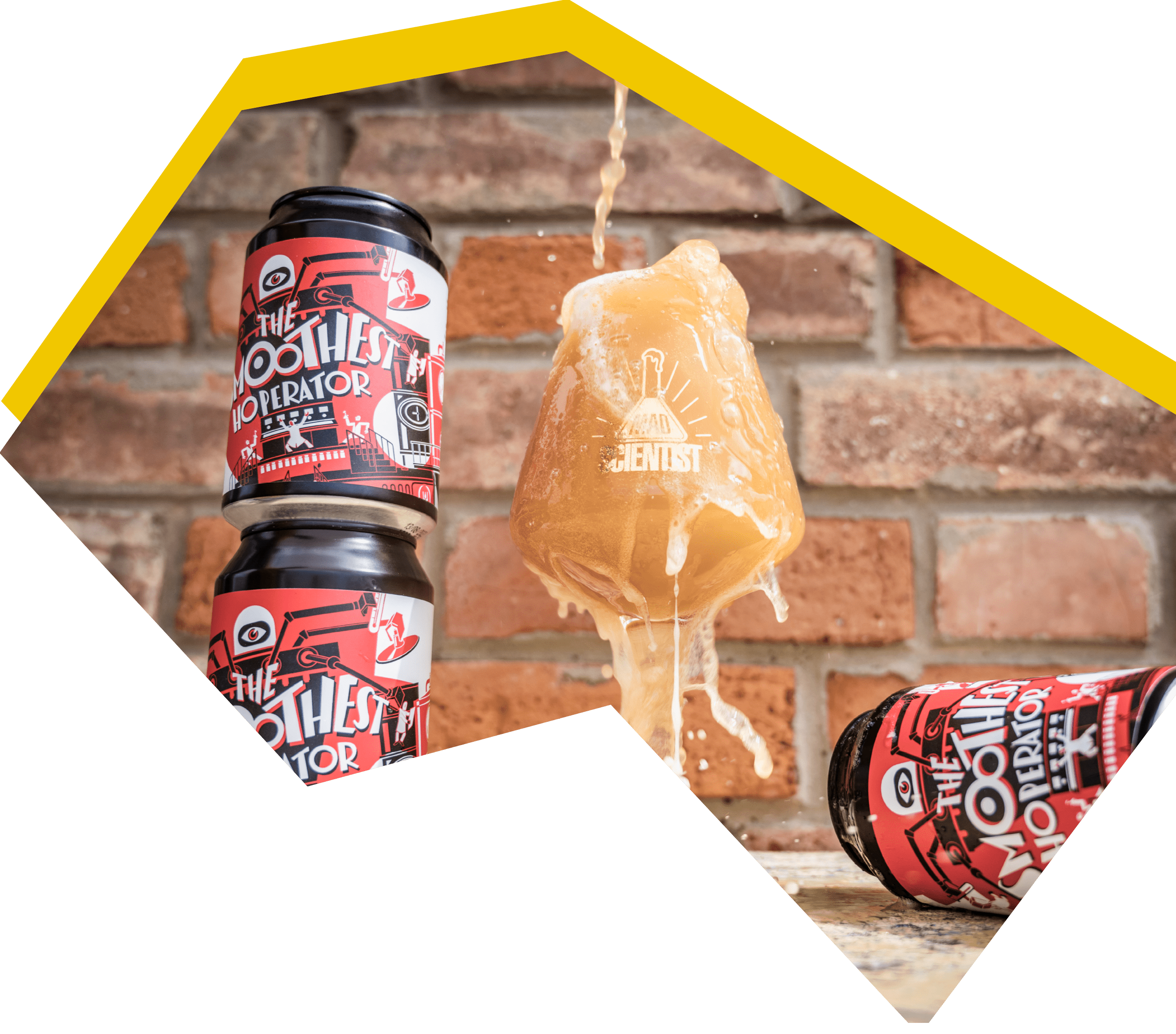 Interview Mad Scientist: It's fun to be a little mad
In July Erwin visited Budapest, not just for the fun of it, but to do an amazing collab with Mad Scientist. We spoke to Márton Sefcsik to tell us more about the Hungarian brewery, their philosophy, beers and the collab.
The not-always-so-madness that is Mad Scientist
In 2016, three (mad) friends in their late 20's decided to start a brewery called Mad Scientist. The brewery is focused on brewing creative, experimental beers with a dose of madness, while staying drinkable. 'For us it's important that you can order a beer you can drink all night. We never shock just to shock. It has been like this since the start and we will continue to do so now. We don't look to other breweries that much, but focus on ourselves and keep the freedom to brew what we want to brew. We will never brew a NEIPA, just because the style is popular at that time. Only when we want too.
We have young and dynamic team that provides us with a fresh look on everything. That's also why we hire people based on their motivation, because all skills can be taught. We really like to focus on the attitude. The fun in life. For us Mad Scientist is not a job, but a…damn I hate this word…passion. It's our life.'
Mad Scientist Island
This 'Mad Scientist is life' really showed during the pandemic. Mad Scientist put their community first, and brewing beers second. 'Yes, of course we kept on brewing, but we tried to bring some light in those dark times. So we kept on sending positive messages out there via our social media. It's the same with our brews actually, the world is filled with anger and frustration and we want our brews to provide an escape to Mad Scientist Island. We work with positive people and a positive attitude which results in positive beers. When we brew we don't just brew, we put fun in it.'
Putting the fun in everything
The same kind of fun and madness they put into brewing beers, they put into daily life. 'Do you know the Jimmy Kimmel segment, where celebs are reading mean tweets posted about them? We did the same with our brewers reading harsh Untappd comments (check it here!). A fun way to say "it's okay if you don't like a beer, maybe the next one is more to your taste". I am not on untappd, I do drink a lot of beers though, but I just want to drink a beer and enjoy it, not just rate it. Also to have real conversations and interaction with people, especially now.'
Mad Brews
A question only some answer…do you have a favourite brew? 'Yes I do, well if it comes down to our core range. I really love Liquid Cocaine. It's such a well-balanced double IPA, although it's a heavy one (9%) I can drink a few of these in a row, it's quite drinkable. It's loud and bold in flavours.' The more 'mad' brews are the ones that are very limited. 'We have a new brew that just recently came out: an imperial stout with tortilla chips added to the barrel, with a dash of habanero (not too spicy) …and yes It's drinkable! We also brewed a very tropical beer once, which was also blue. It's called it Tropical Space Muffin, to us that sounded right. It was an imperial pastry sour with coconut, pineapple and passionfruit. Sometimes, though, we do brew something we love, but the people here don't love it. Like our wine inspired meads, in Italy and France nothing but love, here in Hungary they hated them. But that doesn't stop us from brewing what we like.'
The smooth operator + the smooth hoperator = the smoothest hoperator
How did this collab see the light of day…'In march 2020 I sat down at the bar in Eindhoven and saw 'Smooth operator' on tap. Immediately I thought about our brew Smooth Hoperator a NEIPA, so I really wanted to try this one. After drinking the Smooth Operator, an IPA hopped with Nelson Sauvin and Hallertau Blanc., and a few other beers…Erwin and I came up with the collab. Almost 1,5 years later he visited us in Budapest to start brewing The Smoothers Hoperator. A brew which was best of both worlds…eh beers. So we took Nelson Sauvin, Hallertau Blanc, Citra, Amarillo and Mosiac to make it a full-bodied, sticky, round and smooth DDH DIPA. The design of the can is a combination of our previous design with typical 'Van Moll' elements. And it's amazing!'
The collab is out now and our friends from Mad Scientist will visit our bar on 26th of September.