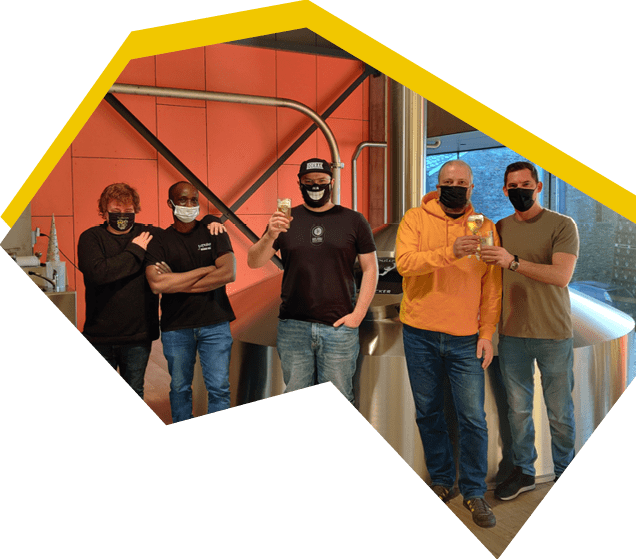 Brasserie Lupulus, beers with a twist
Van Moll took quite some trips to the Belgian village Bovigny over the past few months. Why? Because of the collab with Brewery Lupulus. We sat down with Julien Gobron to talk about the brewery, the collab and the Belgian beer market.

Family Brewery
How did Lupulus come to life? 'We started the brewery back in 2007. Before that my father was one of the founders and owners of brewery D'Achouffe. He sold the brewery in 2004. We decided to start a new brewery and called it lupulus because around that time using lager amounts of hops became more popular, influenced by the USA. Lupulus means hops in Latin. And we wanted to start a different kind of brewery in Belgium. We are actually more a family brewery than a craft brewery, I work with my father Pierre and my brother Tim. We are more an artisanal brewery than a industrial one. And we brew unconventional beers according to Belgian standards. We keep traditions in mind, but with a modern touch,' explains Julien.
Traditional with a twist
So definitely not your typical Belgian beers? 'No, we usually add more hops, the beers are a bit more bitter and are more on the dry side than sweet. We show respect to the traditional Belgian way of brewing, but give it our own unique view on flavours and aromas. The idea is a Tripel with more hops. A balance between a Belgian style beer and an a kind of IPA. Our most famous is the Lupulus Tripel which is hoppy. We also have brown beer, a kind-of-Pale-Ale/IPA called Hopera, a fruity beer with cherry and raspberry juice called Fructus and a winter beer Hibernatus. My personal favourites are the Tripel and the Hopera. Mainly because they are still quite fresh and drinkable even though the Tripel is high in alcohol. It's not sweet, but slightly bitter so it's refreshing. We look for the balance between craft which is sometimes extreme and the more simple beers. I get really excited when we find that balance. Our goal is that you can drink more than one glass of our beer without having had enough,' says Julien.
But most of Lupulus beers come in big bottles? 'Yes, we prefer the 75cl bottle, because with think it's best to share beer. We do have 33cl for bars and restaurants, because 75cl can be too much. But we would rather see you enjoy a bottle with friends," explains Julien.
The collab
How did you end up doing a collab with Van Moll? 'I met Erwin a few years ago. Before he had the brewery, I think. I knew he was a fan of Lupulus. Now we have a representative in the Netherlands David and he met with Erwin. They started talking and decided it was good to do a collaboration. I think Van Moll has the similar point of view on beer as we do. We all thought it was a good idea. We talked a lot about the recipe and the kind of beer it should be. We had a similar idea, the Imperial Porter. We do a lot of blonde beers, so this was a nice addition and a way to try something else. The beer is based on the Hibernatus but giving it a modern touch. A twist. Erwin picked the malts and I chose the hops Ella,' tells Julien. 'The taste is really good, the sugars are a bit higher than expected but we don't feel it. The bitterness is well balanced. Easy to drink for a strong beer. Erwin also came up with the idea to put some in barrels. We are not specialized in barrel aging, but Erwin is and he had the idea to try something. But I'm sure it will be very good,' adds Julien.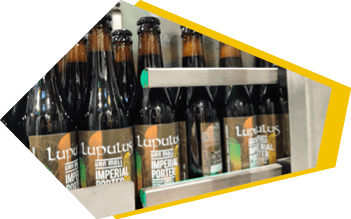 'It's actually the first collaboration that we do with Lupulus. It was a great experience. It was fun, but it's also nice to learn from each other. We have a brewery in France that is looking to do a collab next, but we don't want to do it just to do it. We want to have a feeling with the people and the brewery. So we will see what the future brings. But this was a nice one!,' says Julien.
The market
Is the Belgian beer market ready for an Imperial Porter with a twist? 'It's not the biggest part of the market, but there are people who are open for new beers. Normally it's only pilsner and blonde beer. We see a change, not as big as in other counties, but it's there. Every Belgian brewery has their own IPA now, 7 or 8 years ago this was not the case. We were certainly not the first of experimenting with dry hopping and hoppy beers, but Hopera was a relatively new style of beer in Belgium, especially for our region. But it's good that others do it now, because it opens the eyes of the consumer to try new things,' says Julien.