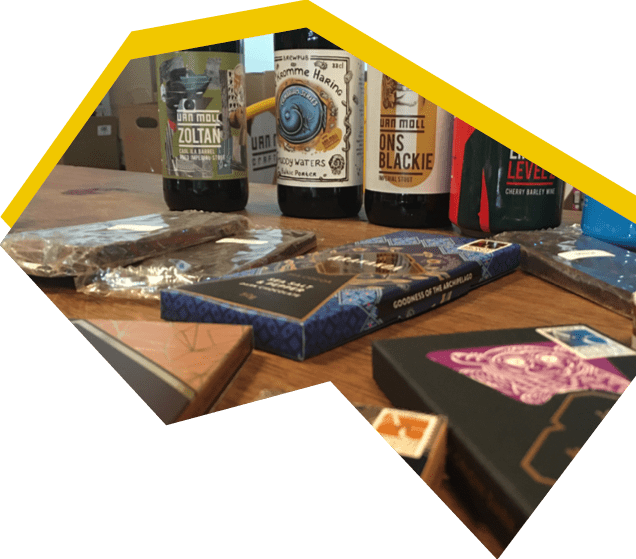 5x beer & chocolate pairing!
We already wrote a piece on cheese and beer pairing, now it's time for chocolate! Yes, beer and chocolate…one of those combinations you see everyday. Maybe in a stout brownie. Yet, it can work so well together! We teamed up with de Chocolademeisjes, Rebecca and Marianne, looking for those tasty pairings. De Chocolademeisjes present bean-to-bar chocolate tastings and have their own webshop. Bean-to-bar chocolate is traceable from been to bar. Each cocoa variety has a unique character which you can taste in the chocolate.
How do you set up a good pairing? Does pairing chocolate work the same as with cheese? 'When pairing chocolate with beer, it is important to taste a sip of beer first and then put a piece of chocolate in your mouth. And then finish with beer again,' says Marianne. 'Yes, that's because the beer is the lighter volume. And anything that is fuller will last longer in terms of taste, chocolate as well. That is why it is best to follow it up in a tasting session,' adds Quincy.
So because of the melting on the tongue, that thick layer that chocolate sometimes leaves behind, you grab the beer first? 'Well, that means you don't you have good chocolate' Rebecca adds. 'It's to thick. They probably added palm oil or another fatty substance to this, in addition to the cocoa butter. This is often to keep the price down, because cocoa butter is very pricey'.  'You also really miss a variety in taste that a good chocolate can have. A mass-produced chocolate is mainly flat and full of sugar. It's incomparable' Marianne adds.
Our Blackie spices things up! 
Our Blackie actually went surprisingly well with a lot of the chocolates. In the end, the Chipotle emerged as the winner. The imperial stout has a full flavor that goes very well with chocolate with chipotle (a smoked jalapeño pepper). It opened both very much in taste. A real enrichment. The somewhat grainy structure of the chocolate creates a tingling sensation on your tongue when drinking the beer. "It really stimulates your taste buds," says Marianne.
Chipotle – Taza

Pure Eindbaas
Eindbaas level 2, a beer that already contains chocolate, at least chocolate nibs. So that should be fine…It was precisely the chocolate to which nothing crazy was added that did the beer the most. The chocolate notes from the beer went subtle because of the Piura and the cherries from the beer came out strongly. The chocolate had a cherry-like base, perfect for the beer.
Piura – Chocolate Tree
Culture Club meets Milk
After testing several beers with a milk chocolate blend, Quincy suggested our newest addition, Culture Club, a sour braggot. A braggot, that is a mead (honey wine) like beer, we brewed it with 50% malt and 50% honey. And it turned out perfectly! The chocolate brings out the honey from the beer and the beer brings out a slight bitterness from the chocolate. For a real taste explosion!
52% Melk – Heinde & Verre
Spice it up with Quadrophenia
The Mexican Spice, a special chocolate with cinnamon, nutmeg, black pepper and chili, was difficult one to pair. A chocolate with so many flavors asked for a somewhat subtle counterpart. Quadrophenia, our quadruple without additions, turned out to be the perfect match. Also due to the yeast, which already contains a hint of cloves. The beer became more exciting and the chocolate became smooth. They balance each other, instead of a bang you got a nice palette of flavors.
Mexican Spice – Chocolate Tree
A bright, rum, coconut future  
Our bright future, a DDH non-hazy IPA, we didn't expect an IPA to fit so well. Just like with cheese, pairing an IPA is difficult because of the hops, especially a 'greasy' taste cuts through the hops. Now the chocolate we chose isn't greasy per se, but it has nice notes of rum and coconut. These flavors go well with the pineapple and coconut that you taste in the Sabro hops. A beautiful pairing with a tropical touch.
Rum kokos – Chocolate Tree