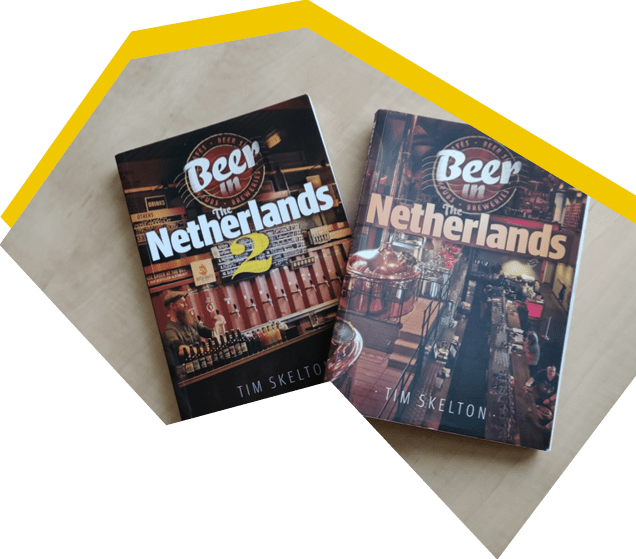 Beer in The Netherlands
On a Saturday afternoon we sat down with Tim and Amanda in their hometown Eindhoven (at Van Moll). To talk about one thing and one thing only: beer. 'Beer in the Netherlands' (1 and 2) to be exact. The well-known Dutch beer bible for which they spent years travelling the country to explore (and test) the best breweries, cafes and shops that serve and sell our favourite thirst quencher!
A happy accident
First things first…How did this book see the light? "We've always drunk beer…And about 14 years ago I wrote a travel guide-book to Luxembourg, which also covered the breweries and cafes there. When it came out I wrote a cheeky e-mail to Tim Webb, the author of The World Beer Atlas, and asked him to mention my guide in his book about Belgium and Luxembourg beers. I wasn't expecting any response, but Tim did write back to me saying that they were dropping the pages about Luxembourg. He then suggested that I should write a book about Dutch beers, since he noticed that I lived in the Netherlands. That got the ball rolling and to test the market I wrote the book 'around Amsterdam in 80 beers' first," says Tim.
"We weren't going to drop the original plan for a guide to Dutch beer however, and finally Tim Webb decided he would publish it. And so the first edition came out in 2014. It wasn't really a stretch to make a beer book, as we already spent a lot of our spare time out and about looking for great beers and cafes," says Tim. "You could call it a happy accident," says Amanda "It became our mission to share all of the good stuff." "But you have to thank Tim Webb though, for answering my e-mail," adds Tim.
A market flooded by beer (sounds like a dream right?)
Well, lucky for us he did. Six years later in 2020 the second edition was published, and the book is almost twice as thick. "This time we published it ourselves. Tim Webb was busy writing The World Beer Atlas, but the craft beer world was and is changing so rapidly in the Netherlands that we couldn't wait," Tim explains. In the first edition there were about 180 breweries, 1000 beers and  hundreds of cafes and shops. In the second there were almost 700 breweries, 550 specialist beer cafes and dozens of stores/suppliers. "We had to cut down the length of some entries a bit, but it's 100 pages longer than edition 1."
"According to Stichting Erfgoed Nederlandse Biercultuur there are now over 900 breweries in The Netherlands. But the organisation takes all beer companies into account, whether they actually make beer or not. We don't do that. Some bars and a few other companies just send an e-mail to a Belgium brewer and order, say a witbier, a blonde beer and an IPA. Then they register at the Kamer van Koophandel (Chamber of Commerce) as a brewery and label the beers as their own. These won't all make the cut," says Tim. "One of our biggest challenges is transparency of those beer companies."
"A lot of today's best known brewers started brewing somewhere else, at another brewery. We understand everyone has to start somewhere, we just want them to be open about it" says Amanda. "A lot of beer people think it's almost a dirty, shameful thing if you brew somewhere else. I don't necessarily agree with that. Personally, I don't really care where your beer is made, as long as you are honest and transparent about it, and about who brewed it" adds Tim.
We are looking for exciting stuff
So what kind of café qualifies for your book? "As a rough guide, a café has to have at least 60 beers on its menu to get selected as a beer café. But it's not a hard-and-fast rule. If you have, say, just a few dozen, but they are all interesting and local beers you might still get in the book. On the other hand, if you have over 70, but they are all well-known branded Belgian beers you might not. We are really looking for exciting stuff, " Tim explains.
"That's the same philosophy with the liquor stores and specialty shops. The range has to be a bit different. We also really want to support the little guy," adds Amanda. "Heineken, Grolsch and Bavaria don't need Tim and Amanda. We want to put interesting smaller places on the map, for people to find and try out. When we did this book we also wanted to say to American and English people that they don't have to visit Germany or Belgium, they can also go to the Netherlands for great beer. And it's also not all about the big international names."
The change in the market and covid
So you tell them where to go, but there are still so many places to visit in the book…
"I think that the number of breweries is growing faster than the market. The market is getting tougher for a small brewer. When the first edition of the book came out, there were about 1,200 standard; core-range or seasonal Dutch beers. I tried almost all of them. And that's ignoring the specials and one-offs brewed for festivals. Now there are at least five times as many standard core-range beers. For the second book we also had the ambition to try all of them, but it just got stupid. There are so many beers now, and I only have one liver!" says Tim. "It became our ambition to try one from every brewery instead," adds Amanda
The million dollar question is, what will COVID do to the industry? It has had such a huge impact on cafees a lot of the breweries depend on them. "Thankfully most of the cafees in our book have survived. It was a massive worry for us, having put a lot of effort into this book and launching it, and then less than eight weeks later the first lockdown happened. But we are more optimistic now. We are travelling around the country, checking who's still there, and who is still up to standard," says Amanda. "By the end of this year we will have visited over 450 out of the 650 bars and shops in the books. We are busy almost every weekend, and when we are at home we usually drink beers that we bought at the beer shops or from breweries. We rarely have a day off," says Tim with a grin. "But we're happy to see that covid didn't change a lot. And most cafes have more beers on their menu".
Can a beer connoisseur brew?
With trying all these beers and visiting all these places, have you ventured into brewing yourself? "Once, when I was still in college. But, we were just dumb students, and we weren't trying to make craft beer. We were trying to make alcohol! It was very powerful stuff, but it didn't taste good. Nowadays we are too busy drinking it to make it ourselves! We've visited every single café and shop in the book (and around half the breweries) and more. Only the best, according to us, make it," says Tim. "We always like to remain independent," says Amanda. "Some places don't even know they made it into the book. But we do get recognized here and there. It feels like a home away from home."

So many beers…what's the favourite?
Another glass of Doerak arrives at the table. "Doerak is my go to brew at Van Moll. I spend so much time rating beers, taking out my notepad and examine them. Sometimes I just want to sit and have a drink. That's when I go back to the ones I know and love. I don't have an all-time favourite. I have a shortlist of probably twenty beers and cafees, just like I have a long list of favourite songs. But which one I prefer depends on the moment," says Tim.
More beers on the horizon
So did you already start with the 3rd edition? "The research never ends" says Tim "What we are already doing is working on an appendix. Early next year I'll be sharing it online, as a PDF update of what already has changed in the past two years, since the second edition came out. But yeah, there's definitely going to a 3rd edition sometime in the future. You have to be a little crazy to do this job, you have to do it for love. But we do love it and have no plans to stop! "
Where to buy this beer-bible? Check out Tim's website