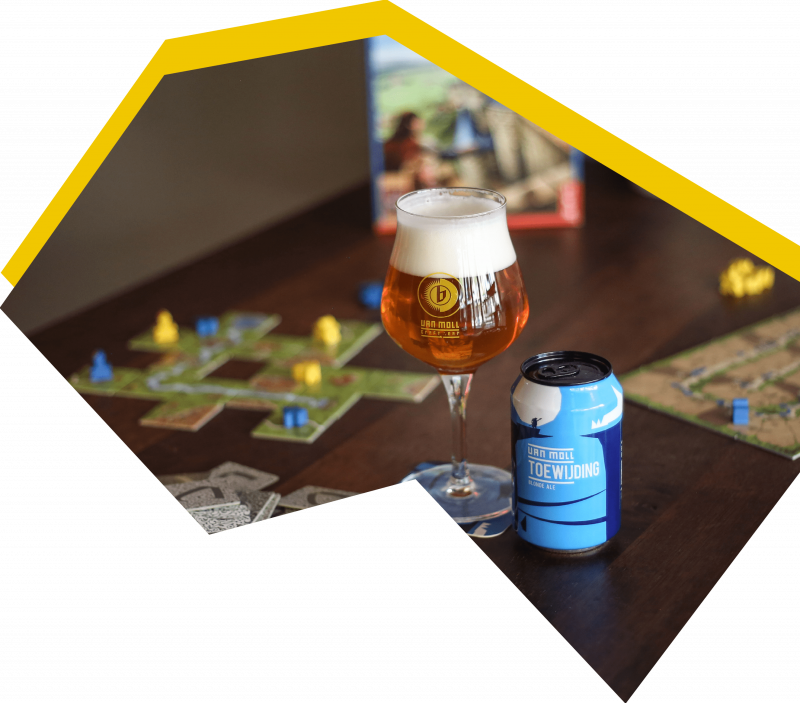 Game on! The best (board)games with your beer!
Those who've visited our bar probably know that we love (yes love!) to board games. That's why a beer and games pairing had to be done at some point. You can read our game and beer tips here!
Around the world with Wanderlust
Wanderlust, a light-hearted beer with many flavours. So many, you're actually going on a world tour… that makes 'Around the World in 80 Days' the perfect game pairing. In the game, based on the book of Jules Verne, you travel around the world as quickly as possible using the available means of transport. That will provide hours of fun, so enjoy a few Wanderlusts while you're at it!
Langharig Tuig belongs in the stone age
Langharig Tuig: our can shows King Kong, but it could just as well have been a Neanderthal. Therefore it's not surprising that we've chosen the 'Stenen Tijdperk' game as the ideal combination. In this board game you try to survive in the stone age. You hunt animals to feed your people, make tools and collect resources such as wood, stone and even gold. You develop your own strategy to get the most points, so the game can be different every time. So it's never gets boring, just like our Langharig Tuig!
Devilish Doerak
A real Doerak plays Jenga. The game to play naughty tricks…but with finesse and style. Because before you know it, your plan will fall apart. Our Doerak is best served with this game. Slightly bitter but uplifting. It keeps you sharp!
Playing with Devotion
Our Toewijding, brewed with attention and…er…devotion. This is also how you play the matching game Carcassonne (with monasteries expansion). Together you build the city and divide the villages, towns and meadows. A strategic game to get the most points.
An evening filled with trouble
Triple Trouble, our favourite three troublemakers. So we paired it not with one but three games: Munchkin 1,2 and 3 to be precise! A game where everything is allowed. Defeat monsters, steal treasures or betray your fellow players. Perfect for an evening of trouble.
An evening full of legends
Enter the world of myths and legends. Fight against trolls and dragons. The Legends of Andor is a cooperative game where you take on the role of wizard, dwarf, warrior or archer and go into battle together. And with Wodan you'll drink a dangerous amount of courage!