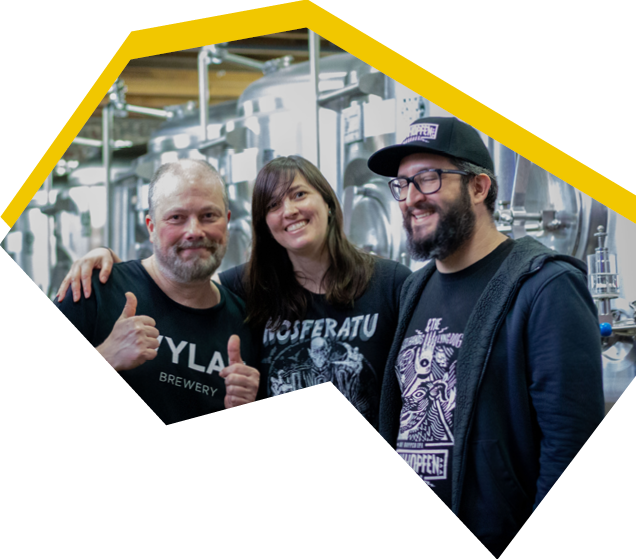 AN INTERVIEW WITH TOTENHOPFEN!
We're very excited to release a brand new collab with Totenhopfen! Time to introduce Sergio and Particia from Totenhopfen to you!
Let's start at the beginning of your beer adventures… How did you guys start brewing?
As many of the craft breweries, we started as homebrewers and brewing for fun. We were living in Austria back then and after doing a brewing course, we took homebrewing to a more professional level in Luxembourg.
So in 2017 a new Luxembourg brewery was born, Totenhopfen Brauhaus! What makes Totenhopfen special, what is it that you'd like to achieve with your beers?
The word "Totenhopfen" is a playword in German that translates into "Dead Hops". We celebrate life, like the Mexicans at Dia de los Muertos. We at Totenhopfen believe Craft Beer stands for quality of life. It's about having fun, getting to know people, sharing, socializing and constantly being challenged and surprised.
Which beer are you most proud of?
Tricky question. We enjoy tasting all the beers we brew. We tend to brew more experimental beers, even the classical beers we will add a little twist. Our most loved beers from the consumers are either hoppy or pastry sours.
What was the first time you met Erwin?
We met Erwin himself at Van Moll back in 2021, when we had our first event in Eindhoven. But we already knew Van Moll's beers and team earlier than that.
And there you guys decided to make a collab together! Let's talk about the new collab. It's a Madeira barrel aged Imperial stout. What makes Madeira a great addition to the Imperial stout?
The idea was to join styles that we usually brew with a multi-cultural touch i.e. Van Moll likes brewing Imperial Stouts, Totenhopfen likes Pastries. And since Sergio is from Madeira, we thought that would be a great addition to a Pastry Stout being brewed in the Netherlands. Madeira Wine is noted for its unique winemaking process which involves oxidizing the wine through heat and ageing. The one we used was a Medium-Sweet Tinta Negra Madeira Wine Barrel that with ageing provided the beer with lots of body and complexity, and aromas of wine, caramel, raisins, nuts.
Sounds very promising! Where does the name Release the Beast come from?
I think the picture on the label says it all. 😉
Finally, what does the future have in store for Totenhopfen?
Besides beers like Hop Spirit (Double Neipa), Love & Other Things (Strawberry Cheesecake Pastry Sour), we will be coming up with a Micro Neipa & loads of cool collabs, like this one.
Thanks Patricia and Sergio! We can't wait!
Want to try some of Totenhopfen's beers? On March 5th we're hosting a Release the Beast release party at the Van Moll bar, where you will be able to taste the new collab for the first time, as well as many special (premiere) beers by Totenhopfen!