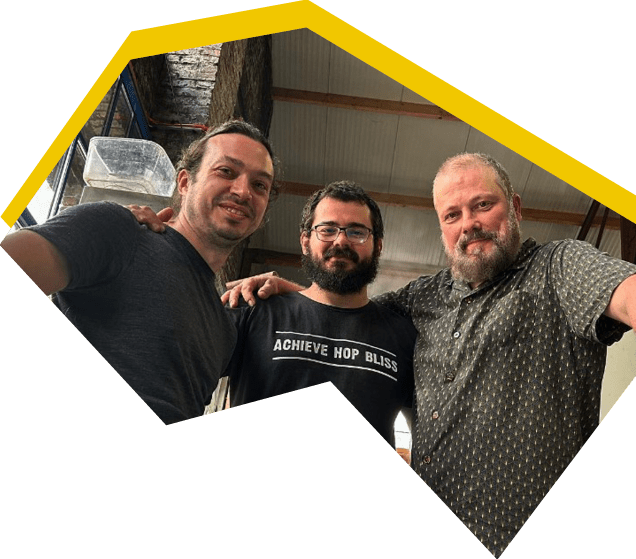 AN INTERVIEW WITH HOP HOOLIGANS
We just released our brand new collab with Hop Hooligans, a rye wine with Earl Grey tea!
In this interview with Cristian from Hop Hooligans, you'll find out more about this collab and about Hop Hooligans!
Let's go back to where it all started… How did you guys start brewing?
Hop Hooligans officially started brewing on a commercial scale in 2016, although we've been beer geeking around at festivals, sharing special beers at tastings and brewing crazy stuff at home for quite some time before that. It was all pretty organic for us, crossing over to having a brewery was a pretty natural step.
What does the brand Hop Hooligans stand for?
There's the Hop in the name because we started off with our eyes set on hoppy beers, especially being in love with the whole New England IPA style wave that was just beginning then. Hooligans, well, because we also decided to never limit ourselves to anything, and that's why, in the end, we're not just actually brewing NEIPAs.
Which beer styles do you focus on?
That said, although we do try to brew bigger and better hazy IPAs most of the time, but also work a lot on Westcoast IPAs, and whatever other style might need a pinch of extra hop added for more complexity and vibes, we're not stuck on that. We even had a small wild ale project, we plan on brewing more and more barrel aged strong beers, like barleywines and imperial stouts, adjuncted or not, and we're always inspired to use a lot of crazy botanicals in beers, not just pump up sours with fruit purees. In short, you name it – we'll try to brew it. As best as we can. Sky's the limit.
Which beer are you most proud of?
Hard to say. We love our flagship NEIPA, Crowd Control, which uses the winning combo of Mosaic, Citra and El Dorado, and we strive to keep it consistently good, even after so many batches. Or actually, consistently better. We're really proud of our barrel aged efforts, from Trial & Terroir, to Never Over and Apocrypha. We also love brewing quirky styles, some that divide people in two tribes, stuff like a tomato or wasabi gose. It sounds cheesy, but we're proud of all of them. There's also quite a few of us at the brewery, and some of us like some of the beers more than others. As is natural, even with the broader public.
When did you meet Erwin and how did you end up brewing a beer together?
We met Erwin a few years ago at Van Moll Fest, and we're grateful to this day that we were involved in that. A huge, crowded festival packed full with great people looking to try out a lot of great craft beer. It was awesome, one of the best festivals we attended ever. We also met at Borefts, and maybe some other festivals too, but it's always a bit of a blur around those. 🙂
Last week we had a small tour with events in the Netherlands, a country which we love, and gratefully seems to love us and our beers back, too. It all started from a TTO in Eindhoven, at Van Moll, so we just had to finally approach Erwin about a collaboration brew, and we're happy he was on board.
Why is Earl Grey such a great addition to this rye wine?
We personally love the heavy stuff from Van Moll, so we had to start from there. Looking at a nice and spicy, bittersweet rye wine, some Earl Grey seemed to fit just right, with some nice tannins to work with the deeply toasted, bready malts, and the bergamot simply keeping it citrusy and fresh, even for a heavy beer. We can't wait to see how the beer comes out!
Finally, what does the future have in store for Hop Hooligans?
More beers. More events. More of everything.
And most importantly we're hyped to have Van Moll over for a return collab brew in our neck of the woods soon. Bringing also some great beers that never dropped in Romania before. We still haven't talked about what we should brew here. But we're sure it's gonna be something great.
We can't wait to see what the future holds for Hop Hooligans!
Want to read more about our collab? Click here!